5 Local SEO Tips for architects to Connect with More Local Customers
Did you know that 4 out of 5 consumers use local searches before purchasing? That means if you're not optimized for local SEO, that's 80% of your local audience missing you every single month. That means that local SEO is a pretty important part of your local digital marketing strategy.
Before giving away our five local SEO tips for architects, let's revisit the question: What is local SEO?
What Is Local SEO?
Local SEO for architects is similar to traditional SEO, but with a geographic component. SEO for architecture firm is more powerful when localized because there's less competition, which makes it easier for you to rank on page one of Google, Bing, and other search engine results pages.
Through traditional SEO, architectural companies attempt to rank for short tail (or very generic) keywords like:
House design
Interior design
House remodeling
Local SEO connects your architectural company with neighboring homeowners and prospective customers showing local intent in their online searches, like the examples below:
architects near me
architects services near me
architect in [City]
big architects in [City]
[Your name] architects in [City, State]
Notice the focus on physical location in the keywords above, displaying local intent?
Your goal in local SEO is to show up in Google's local pack (also known as "maps listings").
The local pack means you're highlighted in both desktop and mobile searches at the very top of organic results, where customers are most likely to click: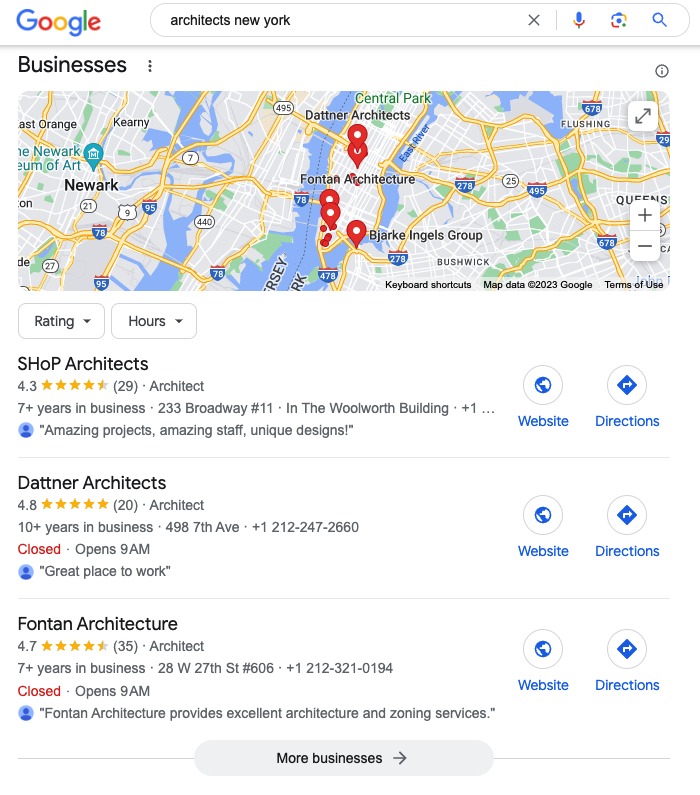 There are many different factors that affect how a architect's website will show up in local searches, including:
Google My Business accuracy
Customer reviews
A website that is properly built and optimized for SEO
Backlinks from other high authority websites referring to your website
Social media engagement
There are some basic and straightforward steps you can take to make sure you are maxing out your local SEO reach. Below we've compiled five tips for you to optimize your local SEO campaign:
Local SEO for architects Tip #1: Optimize Your Website for Local Search
To optimize your local SEO campaign, start with what's under your control: Your website.
Build a mobile-friendly website – More than 50% of all web traffic now comes from mobile devices and some businesses don't ensure that their sites look just as great in mobile as in desktop.
Make your website secure – Google and other search engines give secure websites a ranking boost on search results. This means your website's domain begins with HTTPS, not HTTP.
Audit and optimize your site's metadata – Audit and optimize your web pages metadata (title tag and meta descriptions) to include your priority service areas and target keywords to rank better on search engine results pages (SERPs).
Mobile devices now drive over 52% of web traffic and account for nearly 2 out of every 3 minutes spent online
Add NAP information to your website's footer – The footer of your website sounds like what it is: It's at the bottom of each page on your website. On a practical level, we want to make sure that no matter where your clients are on your website, they can reliably find your name, address, and phone number (NAP). But on a local SEO level, when your footer includes standardized NAP and appears consistently on all your web pages, you'll be sending hundreds, maybe thousands, of positive local SEO ranking signals to the search engines.
Invest in content marketing – You need web page after web page of unique, high-value content that is optimized for local SEO to rank on the first page of Google and other search engines.
Enable click-to-call – Don't annoy potential customers who click on your phone number on mobile devices and aren't able to call you. Need help? Google tells you how to do it right here.
Generate more customer testimonials – New, prospective customers want to hear from other homeowners about their experience hiring your team. Showcase these reviews on your website. Positive reviews and brand mentions on Google My Business, Facebook, and the Better Business Bureau can also positively impact your local SEO performance.
Add schema markup language to your website – These are specific tags that help search engines find your website.
Link to other local websites you are mentioned on – This would include links to your Better Business Bureau profile, for example, news articles and media mentions, and other local businesses you partner with.
Local SEO for architects Tip #2: Audit Your NAP + Website
You want to ensure that your business name, address, phone number (NAP), and website, are consistent across the top-ranked online directories. Why might there be inconsistencies?
Your business moved physical locations
Your marketing partner accidentally placed the wrong business information across directory listings
You changed your local phone number
You have multiple variations of your business name online (e.g. – Rick's architecture, Rick's architecturalService, Rick's Architecture, LLC., etc.)
WHY ARE NAP INCONSISTENCIES BAD FOR architects LOCAL SEO CAMPAIGNS?
Well, the most obvious answer is that a customer might end up calling the wrong phone number or company. Beyond that:
Inconsistency tells the major search engines that your business is less trustworthy
You are less likely to show up in localized searches, including voice search queries on Apple devices, Android devices, and smart home assistants like Alexa and Google Home
Potential customers (and search engines) can be confused or put off by inconsistent information
HOW TO AUDIT YOUR NAP INFORMATION ONLINE
First: Establish a standardized NAP format for your business name, phone number, and address.
Second: Scour the web for all mentions of your company across online directories. You can use automated tools to make the process more efficient, like Yext or Moz Local.
Google My Business
Bing Places
Facebook
Yelp
HomeAdvisor
Angie's List
Nextdoor
Better Business Bureau (BBB)
Of course, your digital marketing agency or partner should be executing these strategies for you. If they're not, you have an issue to address with them.
Local SEO for architects Tip #3: Claim & Verify Online Profiles
Whether you know it or not, people have been writing reviews of your business on different review sites, regardless if you've claimed your own profile or not.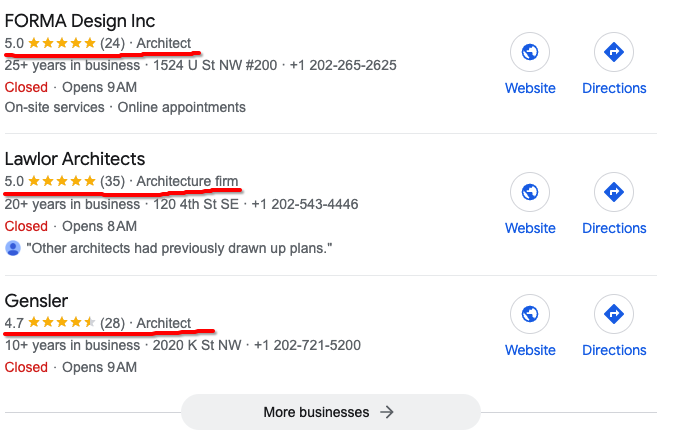 Using a tool like Yext or Moz Local (mentioned above), you can quickly identify what online directory listings have been claimed and which still need some additional attention.
Claiming your directory listings means you're now a verified company on each platform and sends positive local SEO ranking signals to search engines.
Local SEO for architects Tip #4: Get Social Proof
This is an ongoing process, but a necessary one that ensures your business isn't living off reviews from years ago. Social proof includes:
Reviews on Google My Business, Facebook, and other online directories
Responding to every customer review on all platforms
Video testimonials from satisfied clients
Now, it's important to know the rules here:
Yelp, for example, doesn't allow you to ask for reviews
Google doesn't allow you to offer incentives for reviews
Remember to "stay within the lines" here or your local SEO results are at risk of being punished. A smart and automated way to deal with this is to send a link to a review page (like your Google My Business profile) as part of your standard post-service follow-up. Make it easy!
Respond to reviews, whether they are good or bad

It's not that hard to respond to praise, but try to say more than just "Thanks!" Indicate that you appreciate the time the customer took to write the review and perhaps pick out something particular about their review you appreciated.
It's just as important to respond to the bad reviews as well, if you have any. Many potential customers are looking to see how you respond to negative feedback. Review responses to 1-star and 2-star ratings with diplomacy and tact still sends positive local SEO ranking signals to search engines.

Link to preferred review sites

Pick the ones that are most frequently used by your clients: Google My Business and Facebook should be your top priorities.

Post video testimonials

This will take a bit more work, but most people have great cameras on their phones and if you give them a bit of instruction on how to shoot the testimonial, you'll have some great content that adds to your authority.

Get featured in local news and media

You would be surprised how open local media is to featuring small businesses. Don't just call them up and ask to be featured. Suggest an idea or a segment that you could help them with. Are you organizing a community event? Great! News outlets love that.
Local SEO for architects Tip #5: Create a Blog
Having a blog means that you are creating new, fresh content, and search engines love fresh content. Here are some ways to help your blog score well in local SEO results:
Make sure that the blog is on your main website domain, not a subdomain.
Include local city and neighborhood names whenever you can.
Speak to local issues and needs.
Research relevant keywords and use them in natural ways throughout your blog content.
Lead with value. While it might seem strange to give your knowledge away for free, you'll be recognized as an authority and those people who don't want to DIY will trust you to do the work for them.
Link internally to other pages on your website. Make sure to reference your own blogs when you write, too, not only landing pages detailing your services. This will increase authority signals to search engines.
Link to great content on other websites. This might be other blogs in your community or complementary services to your architectural business.
Does Your architectural Local SEO Campaign Need a Little Love?
We realize that it might be overwhelming to see all of these tips, but you don't have to act on all of them by tomorrow. Start with one and then add another, then another, and so on.
Feeling overwhelmed or not sure where to begin?
Contact us online or give us a call to learn more about how DIGIMEA's local SEO services for architects can help you connect with more customers and grow your business!