Google is hands down the easiest way to drive clients and leads to a law firm.
94% of people seeking legal advice use a search engine.
73% of consumers visit a law firm's website to take action.
The problem is, every law firm knows this and invests heavily into their
local SEO
. But sometimes they forget about Google My Business profiles. This has made the legal space one of the more competitive verticals in SEO.
What is attorney SEO in general?
Attorney Search Engine Optimization (SEO) involves strategies, techniques, and tactics that help attract more prospective clients to a law firm's website or GMB profile by obtaining first page ranking positions in search engines (such as Google, Bing, or Yahoo).
It's already pretty clear that for most people, search is their go-to for finding legal services near them. Social and word of mouth certainly play a role, but online search almost always dominates the research phase.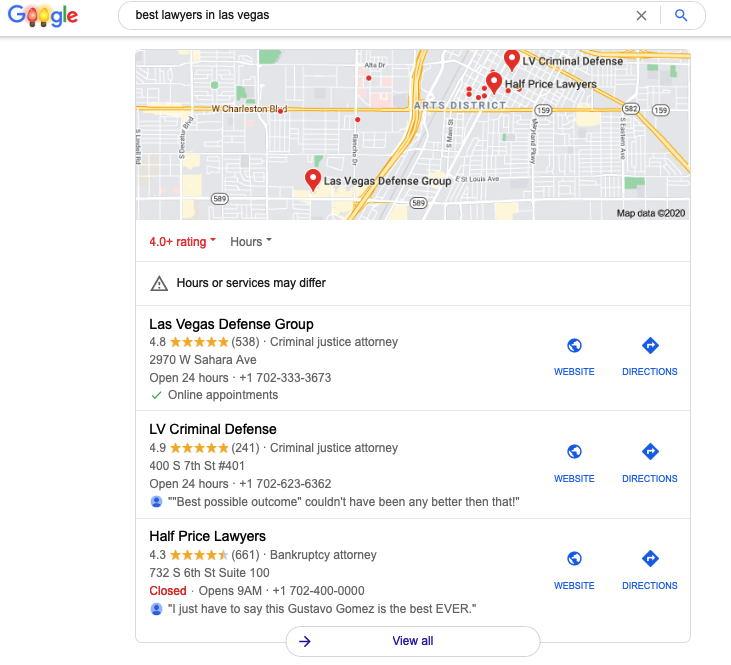 Some elements of search engine optimization also have the ability to compound or increase their benefits over time. Content, for example, presents two opportunities: the first is the potential to rank for more keywords and the second is that, through an exceptionally well-crafted piece of content, the potential exists for natural link building to occur.
Why is law firm SEO important these days?
The way consumers find, research, and choose a law firm has changed dramatically in recent years. Search is a primary channel that people use to find information online and since Google's founding in 1998, it has grown to dominate the search space.
51 percent of all website traffic comes from organic search, 10 percent from paid search, 5 percent for social, and 34 percent from all other sources.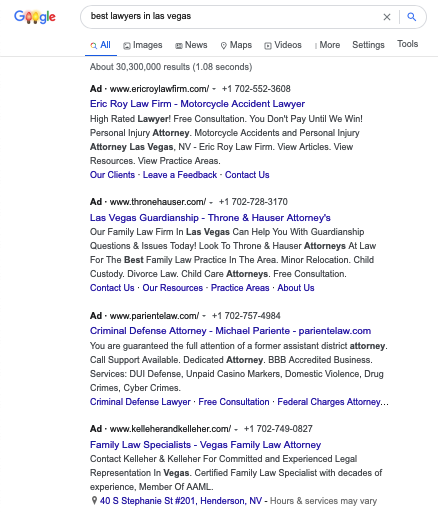 Google's top spots are dominated by paid ads and local results
Among the 10 organic results, almost 50% of the sites are large aggregator sites like Avvo, Justia, Super Lawyers, etc
Only 25% of organic traffic is available to individual websites
The competition is huge and CPC is insanely high
You can't outrank the aggregator sites so you should rank your profile on them instead
You can also run ads on sites like Avvo and avoid the ridiculous CPCs for legal keywords in Google
Data also shows that 87% of smart phone owners use a search engine at least once a day.
In Q1 2020, Google was responsible for 96% of all mobile searches and 92% of searches overall (desktop and mobile combined).
That means if you run a law firm and want to generate new clients, much of your success hinges on whether or not you can be found in Google search.
Why does my law firm need a website for SEO?
Attorneys need a website because the way that consumers find businesses has changed.
This isn't a new idea, obviously, as the Yellow Pages are not (and haven't been for quite some time) the go-to source for research that they once were.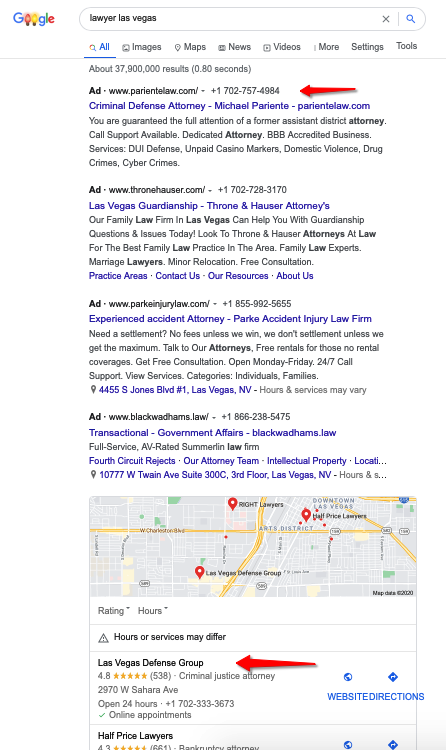 Law firms need the best resource to answer searchers' queries and intent and showcase the business's expertise.
A website, no matter what business you're in, is the central hub for your search engine optimization strategies. It's the foundation of everything you'll do to put yourself in front of your ideal prospective client, as well as create and promote your brand.
The first position in Google search results carries a 34% click-through rate on desktop and 35% on mobile.
Studies have shown that the percentage of traffic from searchers drops to around 2-3% on the second page of results and fades out from there.
Pay-per-click and sponsored ads essentially lease your marketing visibility: that visibility disappears as soon as you stop paying for it. SEO is an investment. The content and backlinks that you acquire have a long-lasting and evergreen impact; in effect, their rankings pay dividends long into the future. Ultimately, SEO creates an asset your firm owns, not rents.
Search traffic converts 10x better than social media traffic (on desktop)!
Search engines (especially Google) have only gotten better at understanding the meaning behind the phrases we type into them and are therefore used even more on the internet to cut through all the noise.
With so many people using search, it makes sense that lawyers marketing themselves online should ensure their websites is built and configured to be found easily using these tools.
Why should attorneys care about their online presence?
It's already pretty clear that for most people, search is their go-to for finding legal services. According to the National Law Review, 96% of people seeking legal advice use a search engine in their research process and 74% of consumers visit a law firm's website to take action.
Simply put, prospective clients use organic search to find and hire law firms.
Arguably the most important aspect of an local SEO lawyer campaign lies in measuring your return on investment (of not just money, but also time). After all, whether you hire an independent agency or you do the work yourself, you need to be sure that the seeds you've sown will bear the proper fruit.
If you find yourself in need of an impartial assessment of your firm's SEO health, contact our expert SEO strategist today to discuss your options at digimea@digimea.com